Biography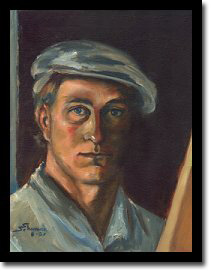 Steven Schuman is an unusual talent, using both oils and mixed media, Schuman paints in a unique style that transforms ordinary reality into creative works of art.
He likes to reflect his world and life through the medium of paint. A painting he says, "is a destruction and a reconstruction of an object or an idea into a new vision." Using an array of vibrant colors, textured shapes, and beautiful lines, Schuman creates a visual revelation of a spiritual truth. His work seems to explode with energy and life!
With an inner light as a guide, the artist continues to find new ways of expressing his art.
Schuman believes that as we live in this world, we should love one another and follow our dreams. Life is a journey full of challenges and choices. If we choose the path of wisdom and never give up, then we can experience the abundant life.